If you love beautiful gemstones and jewelry, then you have found the right place. I custom cut high-quality gemstones for any application.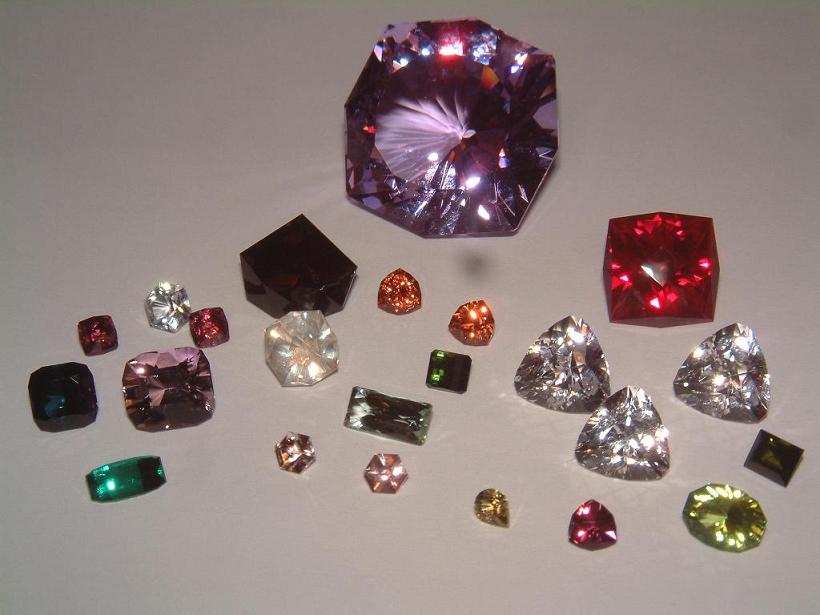 I cut both natural, un-treated, and synthetic stones, providing an infinite variety of options. I typically cut the stones using designs that are not available in commercially cut stones. All of my stones come with a certificate of custom gem cutting. You can choose one of the stones I already have available, or I can cut one to your exact specifications. If you have an old heirloom jewelry piece that you want to bring new life to then I can sometimes re-cut the stones currently in the jewelry, or cut an entirely new stone to fit perfectly in the setting. Every stone is cut to the exact angles needed using the best state of the art equipment, to produce the finest gem possible. There is no comparison between a custom properly faceted stone and a native cut stone which is usually cut to be as heavy as possible. If you see the two side by side you will always choose the custom cut stone. Not only can you have a beautiful stone that all of your friends will admire, but its something unique that can not be purchased at most jewelry stores.

Some of the stones I can cut include Amethyst, Citrine, Ametrine, Quartz, Smoky Quartz, Oro-verde quartz, Emerald, Aquamarine, Ruby, Sapphire, Tourmaline, Garnet, Topaz, Chrome Diopside, Iolite, Danburite, Spinel, Morganite, and many more natural stones, along with any synthetic currently available.

Take some time to look around my site for more information, and to see my work. I will be adding a lot of new content on a regular basis, so check back often. If there is something you don't see here that you would like to see, please contact me and I will add it to my site.
Photo Gallery